SOLD OUT! Pinball Profile "Played In America" tour at Lyons Classic Pinball in Lyons, Colorado – Sat., Feb. 25/23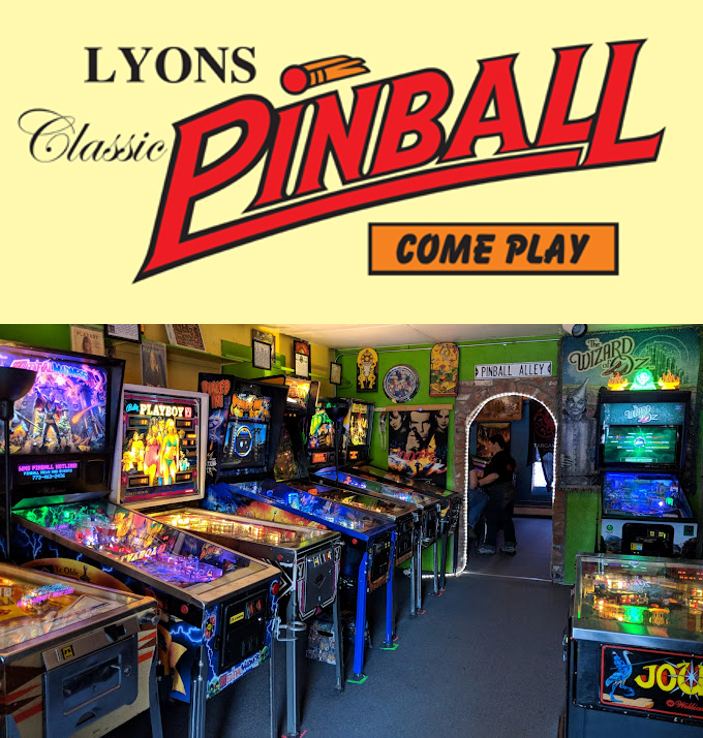 SOLD OUT! Pinball Profile "Played In America" tour at Lyons Classic Pinball in Lyons, Colorado – Sat., Feb. 25/23
462
462 people viewed this event.
SOLD OUT! PINBALL PROFILE is coming to Lyons Classic Pinball! Each player gets an exclusive Pinball Profile "Played In America" Tour shirt if you pre-register by Wed., Feb. 15, 2023. Plus, you'll be entered to win many prizes…all given away at random!
Join us for an IFPA sanctioned, 120% TGP group match-play tourney, Sat., Feb. 25/23 at 1pm. Doors open/registration at noon.
All games on coin drop/card. We will play 9 rounds of group match-play, swiss pairings.
7-5-3-1 scoring for 4 player groups. 7-4-1 for 3 player groups.
Top 16 with most total points make playoffs. Match-play tie-breaker software will be used. If a tie occurs for final playoff spot(s) after tie-breaker software, tie(s) will broken in 1 game playoff on random game, random order, immediately after 9 rounds of match play.
For playoffs, 2 groups of 4 will play 3 games (4-2-1-0 scoring). Top 2 players in each group advance to finals. Top seeds in semi's and finals get choice of "bank of games" (or order for first game). Player with lowest score after game 1 gets order for game 2. Finals: 4 play 3 games (4-2-1-0 scoring). Any significant ties in playoffs are broken on 1 game (pre-selected by TD), with top seed getting choice of order. Trophy for tournament winner!
Rules/format subject to change.
Over $1,200 in prizing to be won…all at random! Thanks to sponsors (alphabetical):
– American Pinball
– Comet Pinball
– Flip N'Out Pinball
– 4evertheflip
– Jersey Jack Pinball
– LTC Pinball
– Marco Pinball
– Mezel Mods
– Outlaw Pinball
– Pinball Expo
– PinShades
– Rocket City Pinball
– Stern Pinball
– Texas Pinball Festival
– ULEK Store
ALL prizes are random, so no skill set needed! Be a part of a future Pinball Profile podcast!
SOLD OUT. Cost $29 USD. Max 64 players. Waiting list will be taken.
Email/PayPal $29 USD:
pinballprofile @ gmail.com by Wed., Feb. 15, 2023. Confirmation reply will be sent. No one beyond this date will be included.
Please include:
– your Full Name
– your IFPA number (if you know it)
– what date/event is this registration for (there are several "Played In America" tour stops)
– Shirt Size (unisex. S, M, L, XL, 2XL, 3XL, 4XL)
Please note: ALL SALES FINAL. Once payment is made, your shirt is ordered whether you attend or not. Shirt will be available for you at venue if you cannot attend.